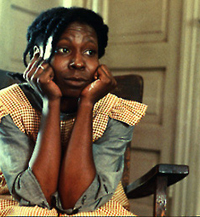 Celie was a houseguest on the fourth season of Big Brother Racism. Celie was a notable contestant for her past experiences, having been oppressed by men her whole life. She was once seperated from her sister Nettie, and when she returned from Africa, the two became inseperable again. When Celie signed up for three months in the Big Brother house, she found herself homesick and comforted by fellow housemate Sherri Shepherd. As the two began a sisterly bond, Sherri was evicted leaving Celie to compete on her own. Her struggle to stay in the game and her underdog status led Celie to become a fan favorite. Celie finished _________, and later returned to All-Stars where she placed ________.
Ad blocker interference detected!
Wikia is a free-to-use site that makes money from advertising. We have a modified experience for viewers using ad blockers

Wikia is not accessible if you've made further modifications. Remove the custom ad blocker rule(s) and the page will load as expected.